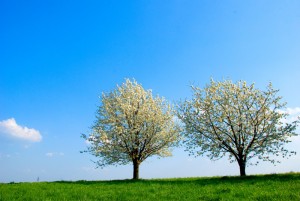 Please let us thank you again for praying for us and our ministry.  We know that God's blessing is necessary for the successful proclamation of His Word, and that His blessing comes in answer to prayer.  Your joining us in prayer has certainly made a big difference this past month (Matthew 18:19).  Now let me tell you about it.
At the beginning of May, I was in Lancaster, California, at the Lancaster Baptist Church (where Dr. Paul Chappell is the well-loved pastor) to participate in their commemoration of the 400th anniversary of the first publication of the King James Bible.  They had me preach in church on Sunday night the first, and in chapel for the West Coast Baptist College on Monday the second.  I really did sense that the Lord was helping me as I brought two unusual messages, about the preservation of scripture on Sunday, and about the power of the words on Monday.  It was a blessing to meet a West Coast student back at our church in Bridgeport at the end of the month who told me that my preaching helped the folks there.  I think you can get recordings of these sermons at their website.
May 8-11 I was in Baldwin, Michigan, to preach in a revival campaign at the Baldwin Baptist Church.  My long-time co-worker, Bro. Dean Bryan, contacted me a few days before to let me know that he used to live in that part of our state, and that he would be praying for me.  We had some really good meetings here, and explained the basic truths about revival.  Several made mention of truly remarkable experiences they had that week through decisions God helped them to make.  Pastor and Mrs. Dave Stiles have become friends of mine, and I am praying for them that they will be used to bring the people forward to revival, and to help some we prayed for to turn to Christ.
The last two weeks in May we spent in the beautiful state of Maine.  Toni and I had never been there before, and were honestly thrilled with all of it.  We were set to preach in back-to-back revival campaigns, in Sedgwick on the coast at the Eggemogin Baptist Church the fifteenth through the twentieth, and at West Sumner in the mountains at the West Sumner Baptist church the twenty-second through the twenty-seventh.  They are wonderful churches, both with good standards of holy living and people with a heart for God.  In both places we saw God revive people and meet their needs.  Both pastors, Bro. McFarland in Sedgwick and Bro. Thurlow in West Sumner, were able and devoted men of God who want to see revival.  Down in Sedgwick (an old town rich in Baptist history) we were blessed to see a man and his elderly mother saved.  A number of times we held prayer meetings in both places, and saw God answer.  The plan is for Toni and I go back to Maine next year for more time to serve this needy area and these earnest believers in Christ.
After we got back to Maine on May 28, we went to our home church on Sunday, and then I headed down to Indianapolis to teach the History of Revival course at Indiana Baptist College.  On my way down, I planned to stop at the Faith Baptist Church of Angola, Indiana, for the evening service, and encountered severe weather as I got there.  The rain and wind came as I ran into the church, and very soon all the lights went out.  There was a tornado watch in effect at the time, which this year makes people especially nervous.  The good pastor, my friend Dr. Arnold Fair, led us to go on with the normal men's prayer meeting and with the service, even with attendance down quite a bit, and with the electricity still off.  When we went into the auditorium for the service, Dr. Fair asked me to say just a little about revival a bit later.  I prayed about it and decided to focus on the prayer of Psalm 85:6.  I would like to ask you to check with the Pastor and the others who attended about just what happened in that service (on May).  As the meeting progressed, it seemed to me that the presence of God was being more and more manifested, until, after the preacher's sermon, the whole body was drawn to do business with God.  It was both phenomenal and wonderful!  How good was the Lord to us!  He was clearly preparing us all for the work of the week, which comes just before a revival campaign with Evangelist Paul Schwanke.  Let's all pray for Faith Baptist of Angola this week and next, and expect God to do greater works!
It was a wonderful month of ministry and fruit, and God answered our prayers.  Now let's be sure to pray for this revival ministry in June and beyond.  Here are highlights of the summer:
In June, I will be teaching a class on First and Second Thessalonians at the Bible school at North Love Baptist Church of Rockford, Illinois (home of R.U.), the sixth through the tenth.  I am also to preach in the church on the fifth.  I am to preach at the Granite City Baptist Church of St. Cloud, Minnesota on the twelfth and attend the Baptist Church Planting Ministry board meeting on Tuesday the fourteenth (in Rosemount).  I will be preaching at the Teen Revival Conference in Menomonee Falls, Wisconsin, June 22-24, and then at the Fellowship Baptist Church in South Bend on the next Sunday.
In July, we will take some time to rest, but are also set to preach at several churches in Michigan: Reese Baptist Church (Sunday morning the 17th), Ann Arbor Baptist Church (Sunday evening the 17th), Loomis Park Baptist Church of Jackson (on the 21st), Grace Baptist of Eaton Rapids (Sunday morning the 24th), and Northwoods Baptist of Clare (Sunday evening the 24th).  I am also to moderate an ordination council on July 21 for Pastor Jim Shuster, and to preach at the Gospel Baptist Church of Poland, Ohio, on July 31.  We will rest, but will be busy, and we need you to pray for us all month.
My next prayer update will probably not come until August, but I would love to hear from you any time.  May we abide in Jesus all summer, and bear much of His fruit (John 15:1-5)!