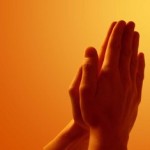 by Dr. Rick Flanders
"Peter therefore was kept in prison: but prayer was made without ceasing of the church unto God for him."
(Acts 12:5)
The early Christian churches resorted to prayer meetings as a means of meeting challenges and getting help from God.  This is clearly shown to us in the accounts given in the book of the Acts.  In chapter 12, we learn how the Jerusalem church got Simon Peter out of jail through prayer meetings!  Verse 5 of that chapter gives a description of this effort which has opened the eyes of many over the years in regard to how we can have effective prayer meetings.  Since it will be important for the church to conduct prayer meetings before and during the special revival effort that is coming up, it is important for us to take another look at this verse.  What kind of praying got the Apostle Peter out of the prison?
1.  It was intense praying: "without ceasing."  The Greek word translated by these words looks and sounds like our English word, "extended."  It means "stretched out," either in the sense of "stretched out" over a period of time or in the sense of "stretched out" in fervency.  It makes a difference to God that we are serious about obtaining what we need.  Remember that it was the "fervent" prayers of Elijah offered "earnestly" that prevented rainfall in Israel for three and a half years, according to James 5:17-18.  Remember also the intensity of the prayers of David recorded in the Book of Psalms.  Let us also consider the importance of "importunity" (persistence) in the matter of praying for the ministry of the Spirit, according to the teaching of our Lord in Luke 11:1-13.  Our prayer meetings ought to be characterized by earnest, intense prayers.  Such intensity is generated both by the genuine desire of believers for the object of their prayers (which in these days ought to include the salvation of sinners and the reviving of saints), and also by the help of the Holy Spirit in the praying (Romans 8:26-27).  In the first moments of the prayer meeting, scriptures should be read to encourage the faith of the people in God's willingness to send revival (such as Psalm 85 or James 4:1-10) and the divine purpose and power of prayer meetings (as in Matthew 18:18-20).  Also the whole time of prayer should be publicly turned over to the Spirit.
2.  It was united praying: "of the church."  The term "church" in the Bible does not refer to a denomination or to the building in which a Christian congregation meets.  It means the congregation itself.  When the members of the church get together to pray, there is special power in their prayers.  We learn this from the words of the Lord Jesus in Matthew 18: 18-20.
"Verily I say unto you, Whatsoever ye shall bind on earth shall be bound in heaven: and whatsoever ye shall loose on earth shall be loosed in heaven.  Again I say unto you, That if two of you shall agree on earth touching any thing that they shall ask, it shall be done for them of my Father in heaven.  For where two or three are gathered together in my name, there am I in the midst of them."
Praying together makes a difference.  Agreement in prayer between Spirit-led people who are praying together is evidence that they are really following the Spirit's leading and praying for things the Father wants to grant!  Let's remember that when an individual prays out loud in a prayer meeting, he is not just praying, he is leading the group in prayer.  In this way, the praying is united.  So he needs to speak loudly enough for all to hear so that they can join him in praying, and he should pray briefly enough so that the others do not become distracted.  In a good prayer meeting, it is best not to "pray around."  Instead, those led by the Holy Spirit to lead us to the Throne should confine each of their turns in voicing prayers to about one paragraph and usually to one subject or request at a time.  And people should be permitted to lead more than once, not in any certain order, but as God leads.  In brief, those who lead in prayer should pray loud, short, and everyone should be allowed to lead more than once, as led by the Spirit.  The prayer meeting should sound like a real conversation with Christ because, led by the Spirit, it is just that.  Note in Romans 8:26-27, Ephesians 6:18, and Jude 20-21, that the Holy Spirit is the One Who makes praying what it ought to be, if He is permitted to have control.
3.  It was sincere praying: "unto God."  Folks at a prayer meeting should really be talking to God.  This is what Jesus was saying in Matthew 6 when He warned us against praying like hypocrites (verses 5-6, to be heard by men) or like the heathen (verse 7, using memorized phrases and sentences).  Jesus said that we should pray like children asking their father for something (verses 8-9).  Baptist people need to learn again how to pray from the heart, as if they are talking to God and not just repeating religious phrases that people have come to expect them to say.  Let us pray like children talking to their father.  Let's pray as new Christians often do.  The Spirit will help us do it (Romans 8:15 and Galatians 4:6).
4.  It was specific praying: "for him."  The prayers in those prayer meetings were not the empty, general prayers that characterize many of our church services.  They called on God for particular action.  They asked Him to save Peter's life, to get him out of jail.  Many people think that praying out loud is supposed to be some kind of spiritual oration that makes some good theological points, but asks for nothing.  But this is not how Jesus taught us to pray (See Luke 11:9-13 again).  The Bible says, "Let your requests be made known unto God" (Philippians 4:6).  May our prayer meetings be characterized by bold, confident, and specific petitioning of God, led by the Holy Spirit!
The churches of Jesus Christ can again be powerful, triumphant, and glorious institutions if they will again do their work through a vital faith in their God.  Faith in God will translate into faith in prayer.  And faith in prayer will restore our faith in prayer meetings.  Let us evangelize our communities as the first churches evangelized theirs, energized by effective prayer meetings.