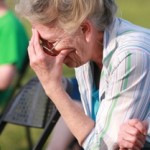 By Dr. Rick Flanders
"And it came to pass, when the children of Israel cried unto the LORD because of the Midianites, that the LORD sent a prophet unto the children of Israel, which said unto them, Thus saith the LORD God of Israel, I brought you up from Egypt, and brought you forth out of the house of bondage; and delivered you out of the hand of the Egyptians, and out of the hand of all that oppressed you, and drave them out from before you, and gave you their land; and I said unto you, I am the LORD your God; fear not the gods of the Amorites, in whose land ye dwell: but ye have not obeyed by voice.
"And there came an angel of the LORD, and sat under an oak which was in Ophrah, that pertained unto Joash the Abi-ezrite: and his son Gideon threshed wheat by the winepress, to hide it from the Midianites.  And the angel of the LORD appeared unto him, and said unto him, The LORD is with thee, thou mighty man of valour.  And Gideon said unto him, Oh my Lord, if the LORD be with us, why then is all this befallen us? And where be all his miracles which our fathers told us of, saying, Did not the LORD bring us up from Egypt? But now the LORD hath forsaken us, and delivered us into the hands of the Midianites.  And the LORD looked upon him, and said, Go in this thy might, and thou shalt save Israel from the hand of the Midianites: have not I sent thee?"
(Judges 6:7-14)
Many regard the Book of Judges as a strange and perplexing portion of scripture, and in some ways it is.  However, it is also one of the most important books in the Bible in regard to the subject of revival, believe it or not.  The second chapter reveals the spiritual cycle that will be followed in the accounts that follow.  Israel would have periods of apostasy, turning from the true God (verses11-13).  These apostasies in those times brought on divine chastisements through the instrumentality of oppressors ("spoilers") such as the Moabites, the Midianites, and the Philistines (verses 14-15).  Then, each time, the people of God would groan under oppression and cry to the Lord, and He would answer by delivering them through the sending of "judges" (verses 16-18).  As long as the judge lived and led them, they would seek to follow the ways of the Lord, and God would deliver them.  But when he died, they would corrupt themselves again, actually "more than their fathers," so that the apostasy/chastisement/repentance/revival/apostasy cycle in the Book of Judges was actually a spiral downward as the people became less connected to the truth of scripture generation after generation (verse 19).
It was in one of those times of apostasy that Gideon was called by God to be a judge-deliverer.  However, he was not eager to answer the divine call because he was frankly discouraged over the state of affairs between the Lord and His covenant people.  He said, "The LORD hath forsaken us."  Gideon did not believe that God would deliver His people again.  Sadly, his attitude at this point reflects the discouragement many of God's people have today about the possibilities of revival.
The truth is that discouragement over revival is epidemic among some of the best fundamentalist Christians of our times.  Such discouragement seems unnatural for people who historically connect back to Bible-believers in the early twentieth century whose hopes and passion for another great revival touched so many with great expectation and enthusiasm.  This virtually hopeless attitude toward the Lord's willingness to revive His people to New Testament levels of triumph is unnecessary and unworthy of those believe in the living God.  In Gideon's heart and in his time, there were three causes for his unnecessary discouragement, and they are the reasons for ours today.
Disappointment
Clearly, the people had been praying for deliverance but had not seen it yet.  Judges 6:7 says that "the children of Israel cried unto the LORD because of the Midianites."  This was praying for revival, because revival is the work of God in which He brings His people back to the place where He can bless them.  Under the Old Covenant, faithfulness to the Lord and His law brought Israel the blessings of victory in battle and material prosperity (remind yourself of these blessings by consulting Deuteronomy 29-31), and repentance brought back the blessings that unfaithfulness had forfeited.  They were praying for revival, and God promised that He would revive them (Deuteronomy 30:1-10). But where was the revival and where was the deliverance?  Men are discouraged by what appears to be fruitless praying.
THE HARD WAY
Sometimes, however, the Lord answers prayers for revival in what we may deem the hard way.  Back in chapter 3, God had answered similar praying by sending a deliverer right away.  Verse 9 says,
"…when the children of Israel cried unto the LORD, the LORD raised up a deliver to the children of Israel, who delivered them…"
Instead of sending a deliverer right away and pushing back the oppressor, this time God sent a prophet who offered nothing but hard words from God:
"…ye have not obeyed my voice."
(Judges 6:7-10)
Sometimes revival must come the hard way.  Revival actually doesn't wait on God; it waits on man.  Often it is the stubbornness of man that delays it.  One powerful revival promise in the New Testament says,
"Draw nigh to God, and he will draw nigh to you.  Cleanse your hands, ye sinners; and purify your hearts, ye double-minded."
(James 4:8)
Sometimes God's people are ready for revival, and can have it almost immediately by the exercise of faith in prayer.  Other times it cannot come without a period of hard preaching against sin, serious heart-searching, with the cleansing of many hands, and the purifying of many double-minded hearts.  When God sends hard things to expose our sin and try our faith, we should not jump to the conclusion that He is not hearing our prayers for revival.  He is hearing, and He is answering those prayers, but in a hard way.
ANOTHER WAY
Gideon had a definite conception about how God ought to answer the prayers for deliverance.  He said to the angel,
"Oh my Lord, if the LORD be with us, why then is all this befallen us? And where be all his miracles which our fathers told us of, saying, Did not the LORD bring us up from Egypt?"
(Judges 6:13)
He knew from history how God judged Egypt with great plagues, and through astounding miracles saved Israel from bondage.  Their fathers had told the Israelites the stories.  It is not wise or safe to try to imagine from history the details of what God will do in a revival.  One cannot really learn about revival from history.  We learn about revival from the Bible.  At best, history illustrates Bible truth, but we do not get an accurate understanding of revival doctrine from somebody's interpretation of history.  Often Christians get a wrong impression from revival history.  They insist that God duplicate things He did in past revivals, and despair when He does not.
Revival is God bringing His people back to health.  Spiritual health for New Testament believers is defined in passages like John 13 through 17 and described in the Book of Acts.  The discerning reader will see that revival happened to the disciples in both Acts 1-2 and also in Acts 6-7.  The results of revival in Acts 2 were seen in great evangelistic success.  In Acts 7, they were seen in martyrdom.  In both cases, believers were serving in John 13-17 victory, abiding in Christ, and filled with the Spirit.  In the first case, sinners hearing the Gospel from Spirit-filled witnesses cried out for help and direction.  In the second case, the sinners who heard the Gospel from a man full of the Spirit murdered him!  The next revival in your church may not produce the same visible results as the last one.  According to the promises of Jesus, we can expect certain things with a real revival: direct and specific answers to prayer, obvious help from the Holy Spirit, peace and joy in the hearts of believers, much Gospel fruit, and also persecution.  However we cannot predict how many people will be saved, whether crime will disappear or taverns will be close, who will get right with whom, or what unexplainable events will come with the revival.  A church revival, a regional revival, or a national revival of Christianity can have different effects for various reasons.  Some praying people have been disappointed because they haven't seen the same events that attended revivals in the past, about which they have heard or which they experienced themselves.  Let's look for John 13-through-17 results for every real revival, but not insist that history be repeated in detail before we realize that God has sent revival!
It is interesting how many different ways, when it comes to the details, God heard the prayers for revival and deliverance in the Book of Judges.  They had no ground on which to say, "Answer in the Othniel way," or "Answer in the Barak way."  They could only pray, "Forgive us and deliver us as You promised."  The details of how He would deliver them were up to Him.  It is the same with us.
Deception
Gideon had some false ideas which also caused him to stumble about revival.  Many Bible-believing Christians today also suffer discouragement because they are deceived.
APOSTASY
He declared with conviction that "the LORD hath forsaken us."  The repeated apostasies of the past had finally worn out God's patience, he assumed.  Some good men in our times have said that there can never be revival when there has been apostasy.  But the testimony of Judges is that there cannot be revival without apostasy!  Apostasy is departure from the truth.  Revival involves returning to the truth.  There is no need for revival and cannot be revival without apostasy first.  And God is willing to revive His people even when they have forsaken Him.  Look at what He does in Judges 10.  The Israelites "did evil again in the sight of the LORD, and served Baalim, and Ashtaroth, and the gods of Syria, and the gods of Zidon, and the gods of Moab, and the gods of the children of Ammon, and the gods of the Philistines, and forsook the LORD, and served not him" (verse 6).  What a terrible apostasy!  Then the Lord in His wrath gives them over to the Philistines and Ammonites, and declares that He would not deliver them again (verses 7 through 14).  Their repeated defections to paganism had worn His patience thin, and He said He was finished with forgiving them.  What did the Israelites do?  Watch them. They confessed their sins anyway (with no promise of forgiveness—verse 15).  They surrendered to God's will (with no promise of deliverance—verse 15).  They prayed anyway (with no promise of an answer—verse 15).  They got rid of their idols anyway (verse 16).  What did God do?  He had mercy on them and granted them deliverance (read the account that follows).  Apostasy does not cancel the mercy of God on those who are willing to repent and seek His face.
THE TIMES
Gideon mourned the state of his people with the words, "Oh, my Lord, if the LORD be with us, why then is all this befallen us?  And where be all his miracles…?"  Folks today think and say that the times dictate decline and prevent spiritual revival.  Some say that these are the "last days," and that because of this no revival can come.  Some point to the Book of Revelation and identify our times with the message to the church of the Laodiceans in chapter 3, verses 14 through 22.  They accept the interpretation of the messages to the seven churches of Asia (in Revelation 2 and 3) that identifies each of them with an era of church history.  The final era, the Laodicean, will be a time of lukewarmness in the churches, and not a time of revival, they believe.  These sad servants of God are deceived by wrong interpretations of prophecy into thinking that the Lord will not revive His people in the end times and that our times are the end times.  There are at four least errors in this way of thinking.
In the Bible, the "last days" ("the last time") extend from the first coming to the second coming of Christ (look carefully at Hebrews 1:1-4).  The term does not refer only to the times just before the return of Christ.  For that matter, there is no way to determine if we are near His return or not (don't forget what Jesus said moments before He went back to Heaven—Acts 1:6-11).
The promises of blessing that Jesus gave for the New Testament age are good until the end of that age (Matthew 28:19-20).  This makes revival possible all the way to the end.
There is no scriptural foundation for the idea that the seven messages to the churches in Revelation 2 and 3 are any more than words from the Lord Jesus for seven actual congregations in the first century, applicable to local churches at any time in the church age.  They are not prophecies of particular eras of church history, and certainly do not predict a time when revival cannot happen.
Even the Laodicean church is promised revival if the people repent, pay a price, and invite Jesus to come and fellowship with them again (note Revelation 3:18, 19, and 20).
SOVEREIGNTY
The discouraging words of Gideon assume that the reviving and deliverance of Israel in his day would depend solely on the sovereignty of God.  But revival in any age is based on a conditional promise of God, and not on an independent, sovereign decree of His.  God says, "If my people,…then will I" (Second Chronicles 7:14).  God will revive and restore them if His wayward people will humble themselves and pray for the revival they need.  This is taught throughout the Bible (see Second Chronicles 30:5-8, Zechariah 1:3, and James 4:6-10, for instance).  Specifically, the Law of Moses promised that whenever Israel under God's curse for disobedience would "return unto the LORD thy God, and shalt obey his voice," then God would "return thy captivity" and will "put all these curses upon thine enemies" (remember Deuteronomy 30:1-10).  In one sense, deliverance depended on Israel and not on God.  The Lord was always willing to revive and deliver them.  Theirs was the next move in revival.  God was calling them back, and when they would come back, He would come back to them.  This is the way it is for the carnal, disobedient, and worldly churches of our day (James 4:8-10).  It is a false idea that revival is a sovereign act of God, and cannot be sought or obtained by God's people.  If we would get back to the idea that it is our duty as Christians to seek God for revival when we need it, we would soon have the revival we need!
Doubt
Gideon's fundamental problem, and ours, is unbelief.  Hopelessness about revival has generated our excuses, errors, and excesses.  Although Gideon eventually learned to believe God (Hebrews 11:32-34), when the angel of the LORD called him, he at first would not believe (notice his constant doubting in Judges 6).  God had to teach him just to believe what He said.
WHO WE ARE
Like Gideon, we forget who we are, according to the Lord.  God called Gideon a "mighty man of valour."  The man then denied that he could rightly be called such a thing (see also verse 15).  One great hindrance to revival among Christians is their doubt concerning who they are, in the Lord's sight.  "Ye shall receive power, after that the Holy Ghost is come upon you: and ye shall be witnesses unto me…unto the uttermost part of the earth," Jesus told them (Acts 1:8).  We are His supernaturally-enabled witnesses, and our destiny is to reach the whole world with the message of His salvation.  The problem is that we don't believe it.
WHO HE IS
The answer to Gideon's excuse about his insignificance and inability was the promise that God would be with Him in his appointed task.
"Go in this thy might,…have not I sent thee?…Surely I will be with thee, and thou shalt smite the Midianites as one man."
(Judges 6:12, 14, and 16)
It was the same problem when God called Moses to deliver Israel.  His first objection was, "Who am I?" (Exodus 3:1-12).  When the Lord replied that who he was did not matter because He (God) would be with him on the mission to save the people, Moses wanted to know who He (God) was (see Exodus 3:13-15).  Now Gideon's strength for the task had nothing to do with his family, his natural abilities, his background, or his determination.  It had everything to do with His God.  In the hours and days that followed, Gideon learned much about Who God is.  And so must we.  It is faith in God and in who we are in His plan that is the key to revival.
In the year to follow, must we not let the living Word of God generate faith in our hearts to believe in His power to do in us what He said He would do?  Must we not get off our sad sacks and get on our knees in earnest prayer for revival in our hearts and our churches?  Must we not shake our unnecessary discouragement about revival and see miraculous deliverance such as Gideon did when he finally shook his?