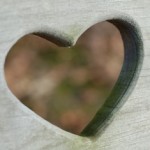 By Dr. Rick Flanders
"Beloved, if God so loved us, we ought also to love one another."
(I John 4:11)
The First Epistle of John is one of the most helpful and challenging books a child of God could ever read and study. Many have built their lives upon promises they have found in its five chapters, and many have profited from memorizing verses and passages located there. However, Christians have also had serious problems in their lives because of the way preachers have misinterpreted the book, and misunderstood its meaning. Ironically, the "tests of life" interpretation of First John, which is supposed to give believers the assurance of their salvation, has served to rob saved people of the blessed assurance they should be experiencing! Certainly, the book contains some hard-to-understand passages, but the message of First John becomes clear when the reader examines the intention behind the use of the little word "ought" in key places.
In the English Bible, the word "ought" is found in three places in First John: in verse six of chapter two, in verse sixteen of chapter three, and in verse eleven of chapter four.
"He that saith he abideth in him ought himself also so to walk, even as he walked."
"Hereby perceive we the love of God, because he laid down his life for us: and we ought to lay down our lives for the brethren."
"Beloved, if God so loved us, we ought also to love one another."
In each of these places, "ought" is the English translation of the Greek verb opheilo which carries the idea of obligation. It means "ought" in the same way that we mean "ought." The apostle John was inspired of God to say that we ought to walk as Jesus walked, and that we ought to lay down our lives for the brethren, and that we ought to love one another. In a way, these statements express "the bottom line," the ultimate conclusions, of this epistle: that saved people ought to live right and love one another. But it has been surprisingly easy to forget what "ought" means.
"OUGHT" DOES NOT MEAN "WILL."
The word means that certain people are under an obligation to do a certain thing, but it does not predict that they all will do it. As a matter of fact, "ought" carries with it the idea that those morally bound to a particular behavior may indeed not behave as they ought. If it is known that an individual will indeed do a thing, it is not appropriate to use the word "ought." Would it be said that a living man ought to breathe, or that his heart ought to beat? When such a thing is said, the implication is that something is wrong which would bring into doubt the normally certain expectation that the man will breathe and that his heart will beat. To say that a Christian ought to do something is not to say that he certainly will. First John teaches us what we ought to do, not what we will do automatically if we are really saved.
Readers of this great epistle sometimes draw incorrect conclusions by isolating some statements it makes from the purpose of the book laid out in the first chapter. This is a fatal mistake. John tells us plainly why the letter was written.
"That which we have seen and heard declare we unto you, that ye also may have fellowship with us: and truly our fellowship is with the father, and with his Son Jesus Christ. And these things write we unto you, that your joy may be full."
(I John 1:3-4)
His purpose is to tell us how to enjoy fellowship with God. The verses that follow this explanation say that "God is light, and in him is no darkness at all," and if believers are to walk with God, they must walk in the light (verses 5 through 9). Later in the book, John says that God is Love (see 4:8 and 4:16). The message of the epistle is simply that if we will walk with God, we must walk in love and walk in the light, because God is Love and God is Light.
First John is not about determining if a person is saved by observing his behavior. The writer says specifically that he is not questioning the salvation of his readers when he says what he does.
"I write unto you, little children, because your sins are forgiven you for his name's sake."
(I John 2:12)
He repeatedly states that his assertions do not mean that he doubts the genuineness of their faith in Christ. Look at I John 2:13-14, 2:21, 2:26-27, and 4:4. What he says in 2:25-26 may indicate that false teachers were trying to get the readers to doubt their salvation, but John clearly was not. His purpose was to refute the seducers (liars, false prophets, antichrists) and teach the saved how to stay in fellowship with God!
John uses a number of terms to describe the fellowship believers can have with God. Of course, he calls it having fellowship with Him (1:3-7). He also speaks of it as knowing the Lord (2:3-4, 4:8), or as abiding or dwelling in Christ or in the light (2:6-11, 2:26-28, 3:6, 3:24, 4:12-13, 4:16). The book we know as the Gospel of John explains many of the terms used in this epistle, including the references to knowing and abiding. John 14:7 tells us that Jesus said to His disciples, "If ye had known me, ye should have known my Father also: and from henceforth ye know him, and have seen him." Verse 9 of the same chapter has Jesus saying, "Have I been so long time with you, and yet hast thou not known me, Philip?" Jesus was not talking about the salvation relationship when he spoke of "knowing" Him. He was speaking of intimacy, of the fellowship saved people can have with Him. Knowing Christ has to do with Him manifesting Himself to us, as taught in verse 21. When John wrote of knowing Christ in First John, he meant fellowship, not salvation, just as the Lord Jesus did back in the Gospel of John. When he spoke of abiding in Christ, he also meant fellowship with Him, just as Jesus did when He introduced the term in John 15. See how this language is used in reference to being in and out of fellowship with Christ, living in and out of the light.
"He that saith he is in the light, and hateth his brother, is in darknwss even until now. He that loveth his bother abideth in the light, and there is none occasion of stumbling in him. But he that hateth his brother is in darkness, and walketh in darkness, and knoweth not whither he goeth, because that darkness hath blinded his eyes."
(I John 2:9-11)
This passage is not saying that a Christian who hates his brother (notice the brotherhood relationship here) is not really saved. It is saying that he is not walking in the light, that he is out of fellowship with God (remember chapter 1, verses 6 and 7). If we ought to love our brothers, this does not mean that we automatically or inevitably will!
The message of First John is that, since God is Light and Love, in order to walk with God we must walk in the light and in love. To prove this point, John speaks several times of light and love in absolute terms. Loving the world is the opposite of loving God; you can't do both (2:15). Loving our brethren goes along with having eternal life (3:10-15). "God is love, and he that dwelleth in love dwelleth in God, and God in him" (4:16). Being born of God by believing in Christ causes us to overcome the world, because He has overcome the world (5:1-5). These are absolute statements expressing the idea that light is incompatible with darkness and loving God involves loving His children. They are not intended to describe the whole picture of any individual's spiritual life. Rather they are given to drive home important truths that relate to having fellowship with God. And they are not to be used to prove that what we ought to do is what we wiil do if we have really been saved.
In chapter 3, up through verse 9, the apostle is drawing conclusions from the fact that we have been "born of God" (a term from the Gospel of John he uses in I John 2:29 and 3:9). He is using logic here, and speaking in absolute terms. God doesn't sin, and Jesus came to take away our sins. Any being that has been born of this holy God through His sin-destroying Son cannot be sinful. How could sin be found in a man that is the offspring of God?
"Whosoever is born of God doth not commit sin; for his seed remaineth in him: and he cannot sin, because he is born of God."
(I John 3:9)
The one who has been born of God cannot sin. Verse 6 says that the one who is abiding in Christ is not sinning. Sin does not come out of abiding in Christ or up from a born-again heart! Now First John says back in chapter one that Christians do sin, but chapter three is saying that when we abide in Him we don't, and what has been regenerated in us doesn't sin. This is the concept of which Paul writes in Romans 7:18-20. When he sins, it was his unregenerate flesh that does it, and "it is no more I that do it, but sin that dwelleth in me." Saved people do sin, but their born-of-God nature cannot sin, and when they are abiding in Christ, they do not sin.
Many have tried to make chapter 3 say that sin in a professing Christian's life is proof he isn't really saved, while not saying that true Christians are actually perfect. They want it to say that those who are saved may sin some, but not too much. This they do by appealing to the present tense of the Greek verb for sin used in verses 4, 6, 8, and 9. The present tense in Greek normally indicates continuing action, although its main indication is contemporaneous action. They have taught that in these verses, to commit sin means to practice sin, and that really-saved people do not practice sin. They may sin a little or once in a while, but they won't sin all the time if they have really been saved. Some have tried to say that a real Christian will not keep on committing the same sin. There is plenty wrong with this thinking, this theology, and this interpretation of the Greek. Many language experts say that this way of interpreting this passage puts far too much weight on the continuous-action aspect of the present tense. The writer would not employ the mere use of the present tense to make such a critical point in his argument. There are better ways of emphasizing practicing sin continually, if you want this meaning emphasized, than just to put the word for sin in the present tense. It is very improbable that the apostle John meant to say what they say he meant. Back in chapter one, the word for "have" in verse eight is in the present tense, but does the verse mean, "If we say that we do not continually have sin, we deceive ourselves"? If it does, then this verse directly contradicts what many say the verses in chapter three mean. We should also consider what the sixteenth verse of chapter five says. It too uses the verb for sin in the present tense when if tells us what to do "if any man see his brother sin a sin which is not unto death." If the verb means "continually sin," then we are talking about the experience of seeing a Christian "brother" continually sinning a certain kind of sin! Christians do sin, even in the present tense, but they ought not, and must not if they would be in fellowship with God. Those who misinterpret the meaning of John's use of absolute logic should be corrected by his use of the word "ought." Ought does not mean "will."
First John is about fellowship with God, and it is addressed to Christians without questioning the genuineness of their faith. When it does deal with assurance of salvation as necessary for confident fellowship with God, it says that men get that assurance by faith in what God has said.
"These things have I written unto you that believe on the name of the Son of God; that ye may know that ye have eternal life…"
(I John 5:13)
Assurance of salvation is gained by faith in Christ, based on the words of the Bible, and not by judging our own performance as a Christian. We ought to do what Christians ought to do, but whether we succeed or failing in doing these things does not determine the genuineness of our salvation. "Ought" does not mean "will." However…
"OUGHT" DOES IMPLY "CAN."
John's point in his first epistle is that Christians ought to walk in the light, and that they ought to walk in love. He does not say that they absolutely will always do what they ought to do, or that if they fail to do so they show that they are not saved. But in saying that they ought to live a certain way, he must be saying that they can live that way!
If a man walked into a hospital and went into a room occupied by a patient that was paralyzed from the neck down, he would have no right to say to that patient, "You ought to get out of bed!" It cannot be affirmed that anyone ought to do what they are unquestionably unable to do. Therefore to say "ought" is to imply "can."
Thank God, believers in Christ can walk in the light, can overcome the world, can love the brethren, and can walk with the Lord!
"For this is the love of God, that we keep his commandments: and his commandments are not grievous. For whatsoever is born of God overcometh the world: and this is the victory that overcometh the world, even our faith."
(I John 5:3-4)
First John does teach that when we behave as we ought, this God-enabled righteousness is evidence of the new birth (note 3:18-24). But it does not teach that we will always have all the evidence we need for proof! Doing what we ought to do is a good thing, and it evidences one's new life in Christ, but seeing or not seeing such evidence does not determine if a soul is saved or not. If the prosecutor does not have enough evidence to prove that a suspect is indeed to one who robbed the bank, does the lack of evidence prove that he did not commit the crime? Of course it does not. A person may be guilty even if there is not proof that he is. Doing what a Christian ought to do is evidence that he is a Christian, but not always doing what he ought is not proof that he is not, just as doing what he ought isn't really proof that he is a Christian. But since "ought" implies "can" every Christian, by faith in Christ, can experience the life of victory that provides plenty of evidence that he is born of God.
If "ought" meant "will" in First John, there would be no need for the Judgment Seat of Christ or rewards for faithful servants, because all of His servants would be faithful. If "ought" meant "will" in this book, there would be no need for warnings in the epistles against carnality, covetousness, idolatry, or fornication, because no real believer could fall into these sins anyway. But if "ought" did not imply "can," then we might despair of ever overcoming our besetting sins and hearing our Lord say, "Well done." Through the victory Christ won for us at Calvary, we can experience victory over our sinful flesh, the world, and the devil. Abiding in Him by faith and in sweet surrender will enable us to walk in the light and walk in love as we ought. This life is the abundant life He came to give us. This is the blessed fellowship with God we all ought to experience!