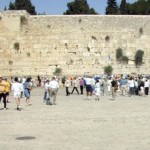 Greetings from Falls Baptist Church and Baptist College of Ministry,
We are very excited about our upcoming Revival Tour of Israel next spring (March 23-April 2, 2014).  Both Dr. Van Gelderen and Dr. Flanders have expressed to me their personal sense of anticipation about this trip and we believe the Lord has great and mighty things in store for us as we seek Him for His reviving while in the Holy Land.  We are confident that the time of Bible study, Christian fellowship, and earnest prayer will bring life-long spiritual benefit.  We believe the choice to go on this Israel trip is not just a good decision; it's a powerful spiritual investment!
The itinerary that we posted on our college website and in the brochure should give us a great opportunity to maximize teaching while also providing a beautiful, full experience of the Bible lands.  The group will be leaving from Chicago on Sunday afternoon, March 23rd and will be flying through Philadelphia.  Travel arrangements can possibly be coordinated for some travelers to meet up with the group in Philadelphia (if need be), but the price we are detailing in this e-mail is for travel from Falls Baptist Church and back to Falls Baptist Church.  In fact, our strong recommendation to all travelers is to come to Falls Baptist Church on Saturday, March 22nd (and we will coordinate housing for you that evening if need be).  We are tentatively planning a pre-trip prayer meeting that evening and we would love it if the whole group could be there.  However, we realize this may not be possible for all those interested in the trip and if different travel arrangements need to be secured, please don't hesitate to communicate with us and we'll do our best to meet your particular needs.
The total cost of the trip is $3,800 per person (all-inclusive, based on double occupancy).  There is only room for 42 people on this trip and we cannot hold spots without down payment money, but as of right now we have you on our list because of the interest you've already expressed to us.  Please submit a $500 deposit no later than August 15th for us to reserve your place on the tour.  Checks can be made out to Falls Baptist Church and mailed c/o Micah Shoultz, N69 W12703 Appleton Ave., Menomonee Falls, WI 53051
We look forward to seeing who all will be a part of this Revival Tour of Israel and trust the Lord will lead you as you seek His will in this opportunity.
In Christ,
Micah Shoultz | Director of Student Ministries | Falls Baptist Church and Ministries | Office (262) 251-7051, ext. 225  | Mobile (414) 803-3174
http://www.bcmedu.org/index.php/about-bcm/news-items/upcoming-events/61-israel-tour-2014