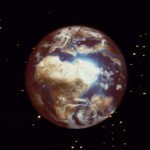 By Dr. Rick Flanders
"And, being assembled together with them, [Jesus] commanded them [His disciples] that they should not depart from Jerusalem, but wait for the promise of the Father, which, saith he, ye have heard of me. For John truly baptized with water; but ye shall be baptized with the Holy Ghost not many days hence. When they therefore were come together, they asked of him, saying, Lord, wilt thou at this time restore again the kingdom to Israel? And he said unto them, It is not for you to know the times or the seasons, which the Father hath put in his own power. But ye shall receive power, after that the Holy Ghost is come upon you: and ye shall be witnesses unto me both in Jerusalem, and in all Judaea, and in Samaria, and unto the uttermost part of the earth."
(Acts 1:4-8)
Anyone really interested in Christian missions is familiar with Acts 1:8 and our Lord's commission that we spread the Gospel to "the uttermost part of the earth." However we should not miss the fact that the first chapter of Acts is part of a story that relates to more than missions. It is the story of that great Day of Pentecost when the Holy Spirit filled the church. There is the promise of the Lord in the first part of Acts 1, and then the prayer meeting in the last part of that chapter. Chapter 2 records the coming of the Spirit, the gift of many tongues, the first sermon about the Lord's resurrection, and finally the conversion of three thousand (the first great harvest of the church age). These two chapters present a pattern that is often repeated in the Acts of the Apostles: prayer leading to the filling of the Spirit, resulting in effective witness for Christ. We must not miss also that this witness was to be worldwide. In other words, New Testament Christianity in its fullness included "missions."
Being filled with the Spirit is the Book-of-Acts definition of what we call "revival." In the Bible revival is God bringing His people back to the place of blessing. It is His lifting them up from disobedience, idolatry, and unfaithfulness to the level of obedience, consecration, and faith where He can send them the blessings He promised. In the Old Testament, those blessings were for Israel in a state of submission to Jehovah. Among the things He promised were victory in battle, prosperity in agriculture, health for the body, and the multiplication of their people. In the New Testament, Jesus promised His followers that when they were in a proper state of obedience and faith, the Holy Spirit within them would make possible many miraculous blessings: direct answers to prayer, the manifestation of God's presence, insight concerning truth, unexplainable peace, and much spiritual fruit. Also there would be persecution (Read His words in John 14, 15, and 16). When the blessings do not come because the people of God are not right, they should repent and call on Him to revive them. God's people in both testaments were encouraged to pray for revival when they needed one (Psalm 85:6, Luke 11:13). When revival came in the Book of Acts, the blessings promised in John 14-16 came too, along with the predicted persecution. Christians in the revived state went about obeying the Great Commission. The revival resulted in aggressive local evangelism, extensive church planting at a distance, and missions to the uttermost part! It was one package: revival, evangelism, and missions. There is a vital connection between prayer and revival, and between revival and missions. Believers of our time must see and restore these connections if we are to see God's plan for world evangelism carried out.
Sadly, missionary endeavor is usually disconnected from revival in the minds of present-day fundamentalists. Prayer and revival are handled separately from evangelism and missions. Sometimes evangelism is treated apart from missions, and revival is disconnected from evangelism. This fragmented thinking is an important reason for our failure at all levels. Prayer is the basis of revival, evangelism, and missions in the whole scheme of God's program. It is not just prayer for missions or prayer for souls, either. It is prayer for a revival that results in souls saved and missionaries sent! Often good men think of ministerial education as the fountain of missions, but never think of revival as the source. If we are to see the world evangelized in our day, we must again treat prayer, revival, evangelism, and missions as connected, as one thing, the living out of God's plan.
History tells us loud and clear that revival and prayer for revival are inseparable from missions. The first missionary thrust after the Reformation came directly from a local revival in Herrnhut, Germany. It happened in August of 1727, and the congregation was called the Moravian Brethren. That whole summer these brave believers who had moved to Herrnhut to escape persecution, gave themselves to praying for a general cleansing from pride, contention, and sin. They saw God answer those prayers in several meetings where the Holy Spirit seemed to fill them. Out of the revived Moravian church many missionaries were sent to far-away places, preaching the Gospel of Christ. One of their evangelists, Peter Bohler, went to England and was used of God to teach the Wesley brothers justification by faith and assurance of salvation. Of course, these men were instrumental in bringing about the Evangelical Revival in England which was closely connected with the Great Awakening in America, both of which encouraged missions. All of this was about one thing: a revival of New Testament Christianity brought by prayer and resulting in missions!
Campus revivals at several American colleges were important factors in the Second Great Awakening, and it is widely asserted that they also gave birth to the nineteenth-century missionary movement! The "Haystack Prayer Meeting" at Williams College gave us America's first foreign missionaries in a movement that touches the world yet today. Revival swept the mission churches of Hawaii through the preaching of Titus Coan in the late 1830s. Coan himself could be called the "product" of revival, having come to spiritual usefulness through the power of America's Second Awakening in its last decade. Many great missionaries were raised up through Heaven-sent revivals! We are told that the pioneer evangelical missionaries to Brazil were converts of the Prayer Revival (1857-1859). The father of C.T. Studd was a zealous convert of the Moody/Sankey campaigns. The Welsh Revival of 1904-1905, along with the writings of earlier revivalists, inspired Jonathan Goforth in his historic evangelistic efforts in Manchuria. Actually the great revivals of the early twentieth century sparked amazing evangelistic advances in many parts of the world: Scandinavia, India, Korea, Indonesia, and Burma, among them. Literally millions were won to Christ between 1904 and 1920!
Revival is vitally related to missions. Actually it can be said that effective missionary endeavor has always been the "product" of revival! We will not see much of the one without more of the other. And widespread revival is the product of earnest, beseeching prayer. If we want to further the cause of Christian missions, we should give ourselves to serious revival praying.
But where is the needed call for revival among fundamentalists? Some seem to have given up on revival for one reason or another. As a result, many fundamental churches are withering in powerless retreat. Some congregations are growing worldly and carnal, and their missionary program is being effected. Missionaries return on furlough to dead or compromising churches. Zeal for evangelizing the world has all but disappeared among the fundamentalists. Financial support for missions is more difficult to generate, and youth are less interested in a life of self-sacrifice. The atmosphere is poisonous for missions. But the answer is not in pushing missions more. It will be in re-establishing in the minds of God's people the whole picture of God's plan. A revival of New Testament Christianity among Bible-believing churches is what is needed. And the Acts of the Apostles shows us the way to what we need: earnest revival praying.