by Dr. Rick Flanders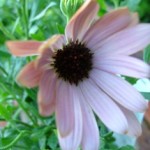 "O LORD, rebuke me not in thine anger, neither chasten me in thy hot displeasure.  Have mercy upon me, O LORD; for I am weak: O LORD, heal me; for my bones are vexed.  My soul is also sore vexed: but thou, O LORD, how long?  Return, O LORD, deliver my soul: oh save me for thy mercies' sake.  For in death there is no remembrance of thee: in the grave who shall give the thanks?  I am weary with my groaning; all the night make I my bed to swim; I water my couch with my tears.  Mine eye is consumed because of grief; it waxeth old because of all mine enemies."
(Psalm 6:1-7)
David was in real trouble when he wrote the Sixth Psalm.  He was physically ill.  His sickness was at least partly the result of divine chastening.  He was suffering mental anguish.  He couldn't sleep.  He spent his nights weeping, thinking about people who meant to do him harm.  The psalm is his prayer at such a time.  And it is a prayer both for deliverance from trouble and healing of his disease.  He recognizes that the sickness could take his life, but he does not want to die.  He does not think that it would be in the best interest of the Lord for his life to end at this time, and so he argues against God letting him die.
"…in death there is no remembrance of thee: in the grave who shall give thee thanks?"
Other scripture passages also argue against letting a servant of God die of his sickness.  Psalm 13 is one of those passages, and it is helpful to us about other matters also.
"How long wilt thou forget me, O LORD? for ever? how long wilt thou hide thy face from me?…Consider and hear me, O LORD my God: lighten mine eyes, lest I sleep the sleep of death; lest mine enemy say, I have prevailed against him…"
At the beginning of Psalm 13, David expresses his dismay over God's apparent lack of concern over his sad situation: "How long wilt thou forget me, O LORD? for ever?"   By the end of the psalm however, he is rejoicing, very much aware that God had not forsaken him, but rather had "dealt bountifully" with him all along (Read the whole chapter).  The Psalms of the Bible are medicine for the soul.  Many of them, like this one, take us from where we are (verses 1-2) and bring us to where we ought to be (verses 3-6).  Psalm 13 also reveals that it is normally better for the servant of the Lord not to die in his troubles, but to live through them enlightened by God: "Lighten mine eyes, lest I sleep the sleep of death."
The song of Hezekiah, written after God answered his prayer for healing, also includes arguments in favor of healing a dying saint rather than letting him die.
"For the grave cannot praise thee, death can not celebrate thee: they that go down into the pit cannot hope for thy truth.  The living, the living, he shall praise thee, as I do this day: the father to the children shall make known thy truth."
(Isaiah 38:18-19; read Hezekiah's whole composition in verses 9 through 20.)
Although Christians go to Heaven when they die, there are strong reasons for them to want to stay alive.  And we have strong reasons to consider those reasons today, even though we are not afflicted with terminal illness.
We know.
Believers are not ignorant of the issues of death (Remember I Thessalonians 4:13-18).  We know that saved people have nothing to fear in death (See II Corinthians 5:1-9).  We know that when we leave our bodies in physical death, our spirits go to be with the Lord Jesus (Philippians 1:20-24), which is "far better."
We also know that, although it does not cut off our conscious existence in spirit, physical death marks the end of our earthly activity and influence.  This is what Ecclesiastes 9 (a chapter often misunderstood by believers and misinterpreted by false teachers) is about.
"For the living know that they shall die: but the dead know not any thing, neither have they any more a reward; for the memory of them is forgotten.  Also their love, and their hatred, and their envy, is now perished; neither have they any more a portion for ever in any thing that is done under the sun…Whatsoever thy hand findeth to do, do it with thy might; for there is no work, nor device, nor device, not knowledge, nor wisdom, in the grave, whither thou goest."
(Ecclesiastes 9:5-6, and 10)
We also know.
We also know that the circumstances of life can bring even the servants of God to the point of not wanting to live any more.  This need not happen because the grace of God is always sufficient to meet our needs and satisfy our hearts, but it has happened to some of the most noted servants of the Lord.  Find Moses despairing in Numbers 11, and saying to the Lord, "Kill me, I pray thee, out of hand, if I have found favor in thy sight."  Hear Elijah, in a period of spiritual defeat, praying, "It is enough; now, O LORD, take away my life" (I Kings 19:4).  Find  Job, in the book named for him, not wanting to live any more, and saying things like, "Wherefore is light given to him that is in misery, and life unto the bitter in soul; which long for death, but it cometh not?"  Hear the prophet Jonah, who could be called the most successful evangelist of the Old Testament, in a time of disappointment with God, praying, "Therefore now, O LORD, take, I beseech thee, my life from me; for it is better for me to die than to live."  Read the words of the apostle Paul as he recalls the time when he "despaired of life" (II Corinthians 1:8).  It happens.  Good Christians sometimes succumb to despair, and want to leave this life and the suffering it brings.  But such times are times of weakness in the believer's life, and not times of wisdom.  He Who is our Lord and Master knows when our work is done and when our assigned time on earth is over, and He is fully able to take us out when it is our time.  Normally we should want to stay.  There are good reasons for God's children to survive a trial, both physically and spiritually, and to come forth triumphantly "as gold" (Job 23:10—Also read I Peter 1:3-8).
We have good reasons to stay.
Psalm 6:5 says that "in death there is no remembrance of thee."  We should want to stay long enough to see the rest of our story unfold, and to register it all in our memory. This was what David meant when he said that if he were to die in his predicament, there would be "no remembrance" of God through him.  One of the most valuable elements of a man's life is his remembrances of God!  Have we not all heard a fellow Christian begin to tell a story of trouble and woe, and anticipated how the story would end?  God is so true to His promises, that we can predict what He will do oftentimes!  Our stories of trial and triumph through Christ are very important.  To hold the remembrance of such a story is indeed a valuable trust!  That's why we should want to see it through to its end.
But in trials we are tempted to despair and want out.  But James 1:3-4 teaches us "that the trying of your faith worketh patience," and tells us to "let patience have her perfect work, that ye may be perfect and entire, wanting nothing."  In other words, God is doing something in our lives through the trial of our faith, and we should let him finish the work He is doing.  Every serious follower of Jesus Christ will endure hardships.  The cross we take up every day is an instrument of suffering and death.  It's not an easy road we travel in regard to the sufferings we are called to endure.  But there is a happy ending to every story of purging and purification, if we will let God write the whole story.  James 5:11 says,
"Behold, we count them happy which endure.  Ye have heard of the patience of Job, and have seen the end of the Lord; that the Lord is very pitiful, and of tender mercy."
Although few actually take their own lives during a hard trial, many believers do contemplate forsaking the life of faithfulness to God.  When believers turn their back on the Lord during times of trouble, they never see what God intended to do through the trial of their faith.  They have no "remembrance" of God's "end" to the story, which always shows His "tender mercy."  In both Psalm 6 and Psalm 13, David's trial had a lot to do with his enemies (see again Psalm 6:7-10 and Psalm 13:2-4).  If he were to die or to move backward spiritually in the trial, the wicked would feel they had triumphed over him.  If Hezekiah had died of his illness, he would have no more opportunity to "hope for thy truth" (Isaiah 38:18).  One reason to stay alive and to stay faithful to Christ is for the remembrance of God bringing good out of evil.  The story won't have the right ending unless you stay around.
We are needed on the earth.
Psalm 6:5 also says, "In the grave who shall give thee thanks?"  There will be a good reason for us to go to Heaven when the time is right, but until then, there is a reason for us to stay on the earth!  We are here to give God thanks.  According to Psalm 13, we are here to rejoice in God's salvation (verse 5) and to sing of His bountiful blessings (verse 6).  According to Hezekiah in Isaiah 38, we are here to "praise" and to "celebrate" the Lord and to "make known thy truth" (verses 18 and 19).  We are here as His witnesses, and we need to be here as long as He wants us here!  Few are the human voices on earth that sincerely praise, thank, and celebrate the true God.  As long as we who are His redeemed have breath, we ought to give Him the praise He deserves!  Even the circumstance that has brought us to despair, if endured by faith in God's promises, can and ought to be an occasion to give God glory.  We need to stay around to glorify Him!  We need to keep on serving God for the same reason.
What about us?
There are reasons for every believer in Christ, regardless of his circumstances or frame of mind, to understand and accept why the servants of God should want to stay alive as long as we can.
Not many perhaps, but certainly some who read these lines, have been tempted to long to leave their earthly life and escape to their Heavenly home.  Neither Moses nor Job nor Elijah were actually suicidal, but at some point they each stopped wanting to live.  They were wrong in this.  We realize that thoughts of harming oneself always come from the Enemy, but desires to escape difficulty on earth by leaving this life are also wrong.  You have good reasons to keep on living for the glory of God.  Stop listening to the Tempter, and listen again to the voice of God.  "Return, O LORD, deliver my soul: oh save me for thy mercies' sake.  For in death there is no remembrance of thee: in the grave who shall give thee thanks?"  Let God help you want to live!
Some have thought sometimes that dying would be a happy conclusion to a problem, but do not really take this thought seriously.  They have more seriously thought about "giving up."  Death crosses their mind occasionally, but the temptation to "move" (Psalm 13:4), or give up, comes far more frequently.  It is a curious thing for a believer in Christ to talk or think about "giving up."  What do we mean by this phrase?  Are we considering "giving up" the ghost?  Most of us are not.  Do we think we can give our salvation back to the Lord, and be unsaved again?  Few of us do.  More often we are tempted by the devil to give up the life of a dedicated Christian.  Although we cannot lose our salvation (remember John 10:27-28 and Romans 8:38-39), we can give up discipleship, but with dire consequences (read Luke 14:33-35).  Don't do it.  Let God take you through your trial.  Let Him turn your sorrow into joy (John 16:20).  Acquire the "remembrance" of another time when the Lord came to your rescue, and then praise Him for doing it.  God is in control, and His grace is more than sufficient to meet your need.
Some contemplating the scriptures with us will be moved by the Spirit of God to pray more earnestly for the healing of a sickness that has stricken them, just as David did.  It is not always God's will to heal us, but often it is.  Remind yourself of this truth by meditating on passages such as Exodus 15:25-26, Psalm 103:2-3, and James 5:13-16.  Don't just assume that, because the doctor says you don't have long to live, your death will come when he says it will.  Bring before God Biblical reasons for Him to heal you (such as remembrance and thanks), and believe that God can do anything He wills to do (Luke 5:12). He can heal the sick, if He wills to do it!  Let God speak to your heart about how you should pray (Romans 8:2627, II Corinthians 12:7-9), and then pray that way.  If God wants to keep you alive, let Him do it!  Pray for healing when it seems that the Spirit is showing you that this is His will. Then keep on praying that way unless and until the Spirit shows you otherwise.