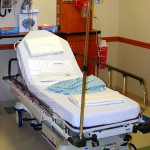 BY DR. RICK FLANDERS
"Draw nigh to God, and he will draw nigh to you.  Cleanse your hands; and purify your hearts, ye double minded.  Be afflicted, and mourn, and weep: let your laughter be turned to mourning, and your joy to heaviness.  Humble yourselves in the sight of the Lord, and he will lift you up."
(James 4:8-10)
"Revive" is a term used in the Old Testament to describe the work of God by which He brings His people back to the place spiritually where He can bless them.  The prayer, "Wilt thou not revive us again, that thy people may rejoice in thee?" (Psalm 85:6—note also Habakkuk 3:2), assumes that the people of God have gone away from Him through disobedience and that they must be brought back.  Now the word "revive" is translated here and in thirteen other places in the Old Testament from the root word for "life," and it means to bring back to life, or health.  The word "quicken" used eleven times in Psalm 119 is translated from the same Hebrew word and has the same meaning as "revive."
The word "revive" is often used in the emergency room at the hospital.  This fact is instructive because a revival among God's people (believers in Jesus Christ now in the New Testament age, as the nation of Israel was in Old Testament times) is very much like the reviving of a patient in the "e. r."  Somebody is brought in who needs help.  He can't help himself.  He is not breathing right or at all, his color is bad, he is unable to walk and get around, he may be experiencing pain, and he is obviously not well.  So the attendants must revive him.  He must be brought back to normal health and vitality.  And there are two important factors in the revival process.
VITAL SIGNS
First, the medical technicians must check his "vital signs."  These are measurements of bodily functions which can be compared with accepted standards of health.  They check heart rate, blood pressure, oxygen levels, and blood readings.  When these numbers are determined, the cause of the difficulties may be more evident as they are compared with numbers that science has determined represent the normal rate or level in a healthy body.  Before you can revive somebody, you must know what "health" looks like.  And health or illness is described in terms of the numbers generated by monitoring devices.   If the patient's heart-rate is too high, work must be done to bring it down.  If his blood-pressure is too low, the nurses and technicians will try to raise it.  At least some treatment would be administered to the patient so that improvement would be brought about in the vital signs.  The first step in reviving a person is finding out how to determine when he is well.  Vital signs set the norm that is to be achieved.
Spiritual revival also gravitates to norms.  What was to be normal and healthy spiritually for the Israelite nation under the "old covenant" is summed up in the book of Deuteronomy.  Chapters 27 and 28 indicate that when the people are obedient to the Law of Moses and faithful to Jehovah as the only true God, certain physical and material blessings will come their way.  But when they become disobedient or unfaithful to the Lord, their blessings would be turned into curses.  If and when they turn back to God with all their heart, he will forgive them and turn the curses back to blessings (chapters 29-30).  These were the Old Testament standards of spiritual health, and the vital signs of revival.
Believers since the coming of Christ have been living under the "new covenant."  This arrangement was predicted in Jeremiah 31 and Ezekiel 36, and is expounded as the "new covenant" in Hebrews 8 through 10.  But the blessings and conditions of "new covenant" living are explained by the Lord Jesus Himself in the Upper Room Discourse, recorded in John 13 through 17.  Here we find the vital signs of New Testament Christianity.  Look for them as you study this long section of the book of John, which is the record of a talk Jesus gave to His disciples the night before He died.  He let them know that He was going away, but that His departure would inaugurate the New Testament Age, which would be very good for His people (John 14:1-27; John 16:5-15).  This era (the one in which we now live) would be characterized by His absence (at the right hand of the Father, interceding for us), His presence (in the Person of the Holy Spirit living within us as our Comforter), and by His imminent return for us.  There would be many phenomenal blessings for committed followers of His under these arrangements.  And we will experience them all when we "abide" in Him (John 15:1-16).  When we fail to abide in Christ, we wither; when we abide in Him, we prosper.  In this important passage of scripture, we can see the blessings Jesus taught us to expect under the new covenant:
Amazing and direct answers to prayer (John 14:12-14; 15:16; and 16:23-24).
Divine help in keeping the Lord's commandments (John 14:15-17).
Manifestations of the divine presence (John 14:18-23).
Illumination of truth (John 14:24-26; and 16:12-14).
Supernatural peace (John 14:27; 15:11; and 16:33).
Spiritual success and reproduction (John 15:1-16).
His love and His joy (John 15:9-11; and 16:20-22).
We also find several more characteristics of the healthy Christian life:
Love and ministry to one another.
Cleansing from our sins by the Lord.
Purpose for our trials.
And we can see all of these in the book of Acts, which records what actually happened with the Christians when Jesus went back to heaven.  They were healthy, as the vital signs indicated.  When our Christian lives reflect these blessings, we are healthy.  When they lack these things, something is wrong.  We are ill spiritually and in need of revival.
It is apparent from the books of John and Acts that most believers in our day need reviving, as do the great majority of churches.  The issue now is how we can be brought out of our sad condition.  And the Bible tells us exactly and plainly how this is done.
RESUSCITATION
James 4:1-10 is one of the clearest revival passages in the New Testament, and it reflects the principles of every Old Testament revival passage directed to the nation of Israel.  Revivals in all ages are based upon the same principles; only the results differ, based on what covenant is in force.  The principles of James 4 give Christians the promise that when we follow them, God "shall lift you up" (see verse 10).  We are guaranteed spiritual resuscitation if we will do certain things.
Remember that revival in the New Testament is about restoring the abundant life described in John 13 through 17.  It is only indirectly about closing saloons, changing society, reducing crime, and seeing vast numbers of conversions.  We make a mistake if we try to define revival from history.  By one historical definition of the term, a revival is the advancement of religion at a certain period in a certain place.  This is the result of a widespread revival, in the Biblical sense.  When Christians live the abundant life, they see prayers answered, live lives worthy of their Lord, and win many to Jesus.  But the revival (Biblically speaking) happens in their own hearts before anything happens in the world around them.  Remember what Jesus said in John 7:37-39 about the effect of believers being filled with the Holy Spirit!  The Spirit gushes out from their innermost selves and touches the multitude around them.  We know that the revived believers of the first century were accused of turning "the world upside down" (Acts 17:1-7).  Revival is the spiritual resuscitation of Christians.
In James 4, the great disease among the churches was worldliness, with strife and prayerlessness and unanswered prayers as symptoms (verses 1 through 4).  This "friendship of the world" makes the Spirit within them jealous (verse 5).  They were supposed to love Him rather than the world (see First John 2:15-17, and compare it to this passage), but now they love the world in an adulterous affair by adopting the wicked philosophy of life that defines "the world" as evil.  The only cure for worldliness is the grace of God, accessed by humility (verse 6).  The scriptural principle upon which we can base our confidence that humbling ourselves before Him will bring grace from the Lord is "God resisteth the proud, but giveth grace unto the humble."  This is a principle taught and illustrated throughout the Bible, and notably over and over again in the Second Book of Chronicles, in which we find another revival promise that is based on humility (7:14).  Human pride is the great obstacle to divine favor.  He is always offended by it.  But it is also true that God always gives grace when a man humbles himself (see startling illustrations of this in First Kings 21:25-29 and Second Chronicles 33).  Therefore the first step in getting revived by God is to humble ourselves before Him.
This humbling takes the form of submitting to God, according to verse 7.  Submitting to God is letting Him have His way about the issues that have come between oneself and Him.  Notice the change in resistance from verse 6 to verse 7.
"God resisteth the proud, but giveth grace unto the humble.  Submit yourselves therefore to God.  Resist the devil, and he will flee from you."
A man moves from being proud and having God resisting him to being humble, getting grace, and finding himself successfully resisting the devil.  And it happens when he lets the Lord have His way ("Submit yourselves").
This new humility leads to a deliberate effort to seek God.  It is as if the backslider (carnal Christian) lost God somewhere and is setting out to find him.  So often God has said, "Ye shall seek me, and find me, when ye shall search for me with all your heart" (Jeremiah 29:13—see also passages such as Deuteronomy 4:29 and Second Chronicles 15:2, where the same promise is made).  This is a revival promise, and is the same promise that the Lord made through the Apostle James.
"Draw nigh to God, and he will draw nigh to you.  Cleanse your hands, ye sinners; and purify your hearts, ye double minded.  Be afflicted, and mourn, and weep: let your laughter be turned to mourning, and your joy to heaviness.  Humble yourselves in the sight of the Lord, and he shall lift you up."
(Verses 8 through 10)
God is the Great Reviver of His people and He always brings them back to life and health when they humble themselves and seek His face.  When we truly seek to find the God of the Bible, Who is holy, we will always turn from our sins, ask for cleansing, and purify our divided hearts.  When God's people do this, they will be revived.  Of course this is the promise God made to Solomon for Israel that we find in Second Chronicles 7:14.
"If my people, which are called by my name, shall humble themselves, and pray, and seek my face, and turn from their wicked ways; then will I hear from heaven, and will forgive their sin, and will heal their land."
Now I must testify that I have seen this happen many times.  Revival involves two participants: God and man.  God has already made clear His intentions and desires.  When His wayward people finally admit their error and humbly seek His face, He always comes and revives them.  The two unite in heart and mind, and the believer goes on to live in unity with the will of the Ruler of the universe.  In John 15, Jesus calls this revived way of living abiding in Him.  Read His description and explanation of it in verses 5 through 11 of the chapter.  Whenever the people to whom I have brought the revival message have been willing to humble themselves and seek God's face for the revival they need, it has come.  As in James 4, the reviving often or usually has come with weeping and mourning, but the humbling brings God's very presence into the room.  I have seen a week of meetings change markedly, and a church changed in a lasting way as a result of a prayer meeting after a revival service when the divine conditions were met.  I have seen it again and again.  It is not revival preaching alone that brings a true revival, but a response in the people of genuine humility that gets them on their knees to seek the Lord.  This does bring revival.
The world is in need of seeing again the followers of Jesus Christ living the life of victory and joy and peace and power that He died and rose again to give us.  Christians in this sense are the hope of the world and certainly the light of the world.  But we are not there yet.  We need to spend a night in the e.r.  If our churches each had a revival night, there could me many remarkable changes achieved.  Let the truth about New Testament Christianity be preached, and let the people be urged to seek the Lord for that level of living in a prayer meeting that involves honest humility and earnest supplication.  And may our God revive us so that He can impact the world through His people again.