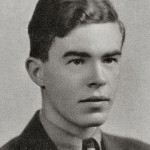 Who Was John Birch?
By Rick Flanders
Most people who have heard of John Birch associate his name with the John Birch Society, a public-policy educational association founded in the 1950s to combat communism.  But the truth is that if nobody had named an organization for him, his name would be properly honored today, especially by fundamental Baptists.  On August 25, 1945, John Birch was murdered in China, which was a significant event at the beginning of the Cold War because he was killed by Communists who, at the time, were supposed to be our allies.  The seventieth anniversary of his murder occurs this year, and there are many reasons for Christians to remind themselves at this time of who this great man was.
HE DID NOT FOUND THE JOHN BIRCH SOCIETY. The John Birch Society was organized in 1957, but not by John Birch, who had been dead for more than a decade.  The founder was Robert Welch, a successful candy manufacturer who had made himself a serious student of world events and saw the need to take action against forces he saw were threatening the freedom of the United States and the so-called "Free World."  The society was named for John Birch because of the significance of his death to the larger situation we called the Cold War.  Not only was the young Birch killed by the Communists, but the murder was covered up by the United States government.  This cover-up of an act of aggression against us by the Communists, along with several more such cover-ups that were exposed in the post-war era, revealed a tangled web of treason and conspiracy that moved some to take action for the preservation of their liberty from powerful forces that threatened them.  The death of John Birch, and the efforts of the American government to hide the facts about it, demonstrated the awful predicament in which our nation has been since World War Two.  It also relates the remarkable story of the bravery and dedication of a young American Christian to his country and to his Lord in the face of great peril.
HE WAS A BAPTIST PREACHER! John Birch was born in India to Presbyterian missionary parents in 1918, and was twenty-seven years old when he died.  At seven years of age, he was "born again" (read John 3:1-17) by trusting in Jesus Christ for his salvation after hearing the gospel in the Baptist church his parents (who had been Presbyterians but left them over theological liberalism) had joined.  When he was eleven, he surrendered to the Lord's call to be a missionary.  John was a dedicated Christian as a teenager and a strong Bible-believer as were his parents.  When the time came for him to go to college, he went to a Southern Baptist Convention institution, Mercer University in Macon, Georgia, to begin ministerial training.  He was already an accomplished preacher and preached often as a student, even pastoring a Baptist church for a time while in school.
HE WAS A FUNDAMENTALIST. As a student at Mercer, John Birch came to see clearly the issue of infidelity in the churches, and took a stand against professors at the university who were undermining the faith of the students.  He also had a chance to hear the famous fundamentalist preacher, J. Frank Norris, preach against what in those days was called "modernism" (a term for the liberal theology that had crept into the churches, which questioned or denied cardinal doctrines of the Christian Faith), and determined to take his stand.  In his senior year, Birch united with a dozen other Mercer students to petition the state Baptist convention to investigate certain teachers on charges of heresy.  In the midst of the furor that ensued, University officials threatened to expel the upstart.  The newspapers made his name a household word in Macon, in either positive or in negative terms.  In time, the heresy charges failed to convict the professors, and John Birch finished his senior year.  He was graduated magna cum laud from Mercer.  Instead of going on to a Southern Baptist seminary to further his education, he enrolled in the new Fundamental Baptist Bible Institute that had been organized in Fort Worth, Texas, by Norris, who was a leader in the national "fundamentalist" movement.  Fundamentalists contended that Christianity must be defined in terms of the fundamental doctrines of the Gospel, and that those who denied any of these cardinal tenets of the Faith, even if they are ordained ministers, are not really Christians.  Fundamentalism was a grassroots movement in the historically evangelical churches against the influence of liberalism.  John Birch was an all-out fundamentalist, and his intentions were to train to be a missionary and go to China to help the Baptist fundamentalists who were laboring courageously and faithfully there.
HE WAS A MISSIONARY. In 1939, God sent John Birch to China as an independent Baptist missionary.  He worked with two legendary fundamental Baptist men, Oscar Wells and Fred Donnellson.  When he arrived, China was torn in the conflict that became the Second World War.  Japan had invaded China, and the United States was putting pressure on them while seeking to stay out of the war.  The government of Nationalist Chaing Kai-Shek over China was being challenged both by a Communist insurrection and the Japanese invasion.  As the war progressed, his missionary support diminished to a trickle, and the place of his service came under Japanese control.  Nevertheless he vigorously and zealously spread the Gospel, won souls to Christ, and nourished the Baptist churches in occupied China.  American interest in the plight of China brought military help from the United States even before Peart Harbor.  Volunteers from our country formed a unit of air force to aid the Chinese that was famously called "The Flying Tigers," which fought the Japanese bravely until they were absorbed into the U.S. Army after we entered the war.  All this time John Birch served the spiritual needs of the Chinese people with the war raging around him.
HE WAS A PATRIOT. In this situation, Birch volunteered to join the United States Army.  He made application to be enlisted, based on two appeals: (1) he wanted to help his country and the Chinese he came to serve, and (2) he needed an income.  He argued that his fluency in the language and familiarity with the culture of the people would make him valuable to the war effort of the United States.  As an ordained Baptist minister, he was seeking appointment as a chaplain.  Eventually he made an attempt to join General Claire Chennault and the Flying Tigers, the fighting unit of American volunteers this great man commanded.  It was the general that told Birch that they had no need for a chaplain, but that they did need an intelligence officer who could work behind Japanese lines and provide important information for the 14th Air Force (as the Flying Tigers came to be known).  Eventually Birch was appointed an officer and served in the Army during World War II while he served the Lord as a missionary and an evangelist in war-torn China.  He preached on Sundays and spied for Chennault during the week.  After Birch was killed, General Chennault said, "John was more than just a very good officer in my command.  In fact, I have always felt toward him as a father might feel toward a son."  In a letter to the Birch family after John's death, General Charles Stone, his commander after Chennault, commended his service.
"As an intelligence liaison officer of the Fourteenth Air Force, Captain Birch performed invaluable services which greatly aided the achievement of ultimate victory.  His work was performed to a great extent behind enemy lines and often under hazardous conditions, in circumstances of extreme personal hardship and immediate danger.  His unassuming manner, unswerving loyalty, and personal courage earned him the respect and admiration of officers and enlisted men among both American and Chinese units."
John Birch played a unique role in wartime China: he was a combination of Baptist missionary and American intelligence officer.  His service at to both God and country was virtually unprecedented.
HE WAS A HERO. While interviewing with General Chennault regarding his application to serve in the Army, Birch played an important role in the renowned mission of Colonel Jimmy Doolittle to bombard Tokyo.  After the attack on Japan, Doolittle's squadron of planes ran into trouble over China, as the famous flier's plane ran out of fuel.  He and his comrades wandered the Chinese landscape until providentially they ran into John Birch.  Birch and his cohorts were able to get the great pilot and his men to American troops and safety.  The news of his heroic efforts in this incident gave Birch credibility and favor before General Chennault, and got him a commission as captain.  As the war with Japan came to a close, Birch had proven himself to be a remarkable soldier.  He also had come to serious spiritual and political conclusions about the significance of the war.  He wrote to his family,
"I believe that this war will set the stage for Antichrist.  I'll have a lot to tell you when I get home.  Things about the future of China and of the world."
As he prepared to come home, John Birch was to fulfill one more mission.  Under orders of General Albert Wedemeyer, commander of American forces in China, he and ten other soldiers (three Americans, five Chinese, and two Koreans) were to take a train to Suchow to inspect the airport there before Birch would make his way back to the United States.  In their journey the eleven where detained by Communists and eventually John Birch and his Chinese personal aid were shot and Birch was killed.  The aid (whose name was Tung) was badly wounded and basically left for dead but survived and gave an eyewitness account of the captain's abuse at the hands of the Communists.  John Birch repeatedly refused to surrender weapons and other equipment carried by his men, insisting that since the war was over and Americans were supposed to be allies of the Communists, they were under no obligation to be subject to this treatment.  They would not be disarmed by the Red Chinese.  The arguments were heated and repeated.  Tung warned John Birch against antagonizing the Communists, and several times the captain replied, "Never mind, Lieutenant, I want to see how the Communists treat Americans.  If they kill me, America will stop the Communist movement [advance] with atom bombs."  They did kill him.  He was buried we think in Suchow.  But instead of holding the Communists responsible for this hostile action, the American government decided that the incident should not be made known.  The story of the murder of John Birch became a tightly-guarded secret.
HE WAS A WITNESS FOR JESUS CHRIST!
In a letter to his parents in 1944, John testified,
"If my hour to depart should strike, I am ready to go, thanks to the merits of our Savior, the Lord Jesus Christ."
The source of his bravery in the final hours of his service to his country was the assurance John Birch had in his mind and in his heart that he would go to Heaven.  His decision to risk his life by standing for the rightful interests of the United States was based on the conviction that his life could be a sacrifice for the betterment of the world.  All of these amazing qualities in the life of John Birch resulted from the work of grace wrought in his heart by Jesus Christ.
After the war a newspaper reporter who had spent much time in China (Adeline Gray) wrote in amazing terms about John's life and service in a letter to his parents.
"Yesterday, I read of John Birch's death in the [Washington, D.C.] Evening Star and was very shocked.  Your son was one of the finest men who ever came to China.  He never drank, smoked, swore, or did an unkind thing to anyone.  He believed that wars were due and are due to lack of religion.  He talked of this in most lofty and beautiful worded sentences.  He exerted a profound effect upon the thousands of people who came in contact with him…
"His loss is a great loss not only to China, but to America and the world.  He loved China and the Chinese people dearly and planned to stay in China all his life.  During the war he performed many dangerous and heroic feats.  As a member of the U. S. Army Intelligence, he often was parachuted out into Japanese areas and spent weeks and months behind the lines.  He was a beloved man of the U.S. Army in China; he was widely known all over China…
"I understand that no news agency was allowed to send out the story of your son's death from China for fear of arousing Chinese Communists and American relations to a higher pitch of instability and ill-will.  So his death was not mentioned in any news story from China.  Otherwise, it would have been on the front page of every paper in the U.S."
On the Fourth of July in 1945, he had written a letter home that eloquently stated his perception of the need of the world:
"There is only one real problem in the world with all its complicated evils, and there is only one answer, amidst the maze of futile plans.  Here is the problem and the answer: 'The wages of sin is death, but the gift of God is eternal life through Jesus Christ our Lord' (Romans 6:23)."
Over the years after his death, the heroism and martyrdom of John Birch occasionally leaked out from the classified report, with statements made about him in Congress and the press.  But the report itself was never seen by the public until it was de-classified in 1980.  However, the testimonies of soldiers and family-members who knew his story have inspired thousands of Christians and patriots for seventy years.  How he lived, what he said, and what he did tell us all that there is more to life than staying alive, that only in Christ can the needs of men be met, and that the still-spreading collectivist conquest of nations is evil at its core and essentially spiritual in its errors.  May he be remembered, and the lessons of his life heeded.
Have you bowed to Jesus Christ as your own Lord and Savior?  Reader, have you received the gift of eternal life by faith in the Son of God?  Christian friend, will you stand bravely for the truth of God in these dark days when many may be challenged to pay a price to live for Christ?  As we remember John Birch, may the Lord use the testimony of his life and death to draw us to love the One Who loved us, and gave Himself for our salvation.
"And when he had opened the fifth seal, I saw under the altar the souls of them that were slain for the word of God, and for the testimony which they held: and they cried with a loud voice, saying, How long, O Lord, holy and true, dost thou not judge and avenge our blood on them that dwell on the earth?"
(Revelation 6:9-10)
SOURCES OF INFORMATION ABOUT JOHN BIRCH:
Welch, Robert. The Life of John Birch. Belmont, Massachusetts: Western Islands, 1960.
Hefley, James and Marti. The Secret File on John Birch. Wheaton, Illinois: Tyndale House Publishers, 1981.
The John Birch Society, 770 N. Westhill Blvd., Appleton, WI 54914—920.749.3780.
Arlington Baptist College, 3001 West Division, Arlington, Texas 76012—817.461.8741: ask for information on John Birch.