For many months, pastors and evangelists in our state of Michigan have felt a burden from the Lord for revival in our churches. Perhaps you have sensed the same leading in your prayers this year. In June, several met to discuss the need for revival among God's separated people, and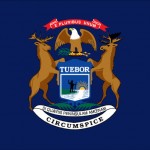 to seek God's direction about what can be done to meet the need. Out of that meeting have come plans for a state-wide gathering in June of 2017 (probably the week of the 18th) to remember the Bible truths that bring revival, to hear from revivalists, and to look to God for purging and for the answer to our prayers. I think it will be called the Michigan Revival Conference.
Also from this beginning several other plans are being made to prepare us to receive the blessing of the Lord He promised in Acts 1:8 and other scriptures, so that we might effectively spread the Gospel to the dark world around us.
One of these preparations is a call for serious Christians in our state to give one day a month to prayer for revival, in our lives, in our world, and specifically in Michigan. Such a call for coordinated praying has remarkable precedents.
In 1794, when our young nation found itself in a moral and spiritual crisis, Baptist leaders sent out a letter (called in history "The Circular Letter") to all of the churches, asking them to set aside one day per quarter as a day of fasting and prayer for a new "awakening." These prayer meetings began across the country in 1795. A section of the Circular Letter is reproduced here for our consideration.
"To the ministers and churches of every Christian denomination in the United States, to …promote explicit agreement and visible union of God's people in extraordinary prayer for the revival of religion and the advancement of Christ's Kingdom on earth. In execution of this plan, it is proposed that the ministers and churches… should be invited to maintain public prayer and praise, accompanied with such instruction from God's Word, as might be judged proper, on every first Tuesday, of the four quarters of the year, beginning with the first Tuesday of January, 1795, at two o'clock in the afternoon, if the plan of concert should then be ripe for a beginning, and so continuing from quarter to quarter, and from year to year, until the good Providence of God prospering our endeavors, we shall obtain the blessing for which we pray."
The coordinated prayer meetings that began in 1795 were called "concerts of prayer." Throughout these important months, anyone visiting virtually any town in the United States on the stated Tuesday would find the churches packed with people, for an exposition of the promises of God, and for earnest prayer the He would come and fulfill them as He said. Mercy drops of revival were experienced in several places in 1795, reminding Christians of the phenomenal revivals they had seen with their own eyes in the Great Awakening of 1734 until about 1760. In 1797, a preacher named James McGready moved from North Carolina to what was known as "Rogues' Harbor," Logan County, Kentucky, to confront the powers of darkness and debauchery with the power of God and the light of the Gospel. Early in his ministry there, he asked the families of the two little churches he pastored to agree to a covenant of prayer. In the next couple of years, many prayers were offered up, and lost souls were awakened and began coming to the churches. Some were converted, and then in a set of meetings in June of 1800 at the Red River Meeting House, the mercy drops turned into showers, and more than a thousand lost souls were saved. Reports of this powerful revival went throughout the country, and people said that the Second Great Awakening had begun. It had indeed begun, and became the longest-lasting national revival in modern times. The source on earth was a simple commitment to pray:
"When we consider the word and promises of a compassionate God to the poor lost family of Adam, we find the strongest encouragement for Christians to pray in faith–to ask in the name of Jesus for the conversion of their fellow-men. None ever went to Christ when on earth, with the case of their friends, that were denied, and, although the days of his humiliation are ended, yet, for the encouragement of his people, he has left it on record, that where two or three agree upon earth to ask in prayer, believing, it shall be done. Again, whatsoever you shall ask the Father in my name, that will I do, that the Father may be glorified in the Son. With these promises before us, we feel encouraged to unite our supplications to a prayer-hearing God for the outpouring of his Spirit, that his people may be quickened and comforted, and that our children, and sinners generally, may be converted. Therefore, we bind ourselves to observe the third Saturday of each month, for one year, as a day of fasting and prayer for the conversion of sinners in Logan County, and throughout the world. We also engage to spend one half hour every Saturday evening, beginning at the setting of the sun, and one half hour every Sabbath morning, from the rising of the sun, pleading with God to revive his work."
In the nineteenth century, George Mueller of England, in some definite way, taught believers around the world to pray. His writings include many reports of remarkable answers to the believing prayers of common Christians, and one such report tells us about the prayer meetings that brought on the great revivals of 1859. He tells us, "In November, 1856, a young Irishman, Mr. James McQuilkin, was brought to the knowledge of the Lord. Soon after his conversion, he saw my Narrative advertised… He had a great desire to read it, and procured it accordingly, about January, 1857. God blessed it greatly to his soul, especially in showing to him, what could be obtained by prayer. He said to himself something like this: 'See what Mr. Mueller obtains simply by prayer. Thus I may obtain blessing by prayer.' He now set himself to pray, that the Lord would give him a spiritual companion, one who knew the Lord. Soon after he became acquainted with a young man who was a believer. These two began a prayer-meeting in one of the Sunday Schools in the parish of Connor. Having his prayer answered in obtaining a spiritual companion, Mr. James McQuilkin asked the Lord to lead to become acquainted with some more of His hidden ones." That autumn (1857) a group of four men (including McQuilkin) began meeting every Friday in a school house in the village of Kells to pray for the blessing of God upon His people. As the weekly prayer-meetings continued, word came to them about the mighty move of the Spirit that had begun in a prayer movement in the United States, and those who prayed in Ireland were encouraged to believe that God would do similar things for them. In 1858 McQuilkin and others both prayed and preached for revival in Ireland, and by the next year, an amazing transformation of Christians led to the salvation of hundreds of thousands in Ireland, Wales, and England, in what is today called by historians "The '59 Revival." It all began when a small group of men were convinced that God answers prayer.
The Bible teaches that God will always revive His people if they will humble themselves and seek His face (see Second Chronicles 7:12-14 and James 4:1-10). This lifting up of believers who have sunk low happens in answer to prayer (read again Psalm 85 and Acts 4:31). Jesus promised us many wonderful blessings in the so-called "Upper Room Discourse" (found recorded in John 13-17), given to His disciples the night before He died on the cross. In His description of the coming New Testament age, He promised us the supernatural help we need for the work of world evangelism that we are called to do (see again Acts 1:8). He said that , with Him going to the right hand of the Father to represent us, and with His Spirit coming to live inside us, New Testament Christians can expect remarkable privileges in prayer, the power of the Holy Spirit for both holy living and effective service, the experience of His peace and love and joy, evangelistic productivity, and also persecution). These evidences of divine favor and partnership will be our experience, He promised, as long as we "abide in Him." When His people are not abiding in Him, they will wither. When they do abide in Him (live in total dependence on Him and commitment to Him), His people flourish. To bring these blessings back, we should unite in prayer.
FOR THIS REASON SOME OF THOSE WHO ARE PRAYING FOR REVIVAL IN MICHIGAN ARE CALLING UPON ALL BIBLE-BELIEVING CHRISTIANS TO SET ASIDE ONE DAY A MONTH AS A DAY OF PRAYER FOR REVIVAL, IN OUR LIVES AND IN OUR CHURCHES AND IN OUR COMMUNITIES, AS SOON AS PRACTICABLE. ALONG WITH THIS CALL, WE ARE REQUESTING THAT THE FOLLOWING RELATED THINGS BE CONSIDERED:
1. That the churches which set aside one day a month as a day of prayer for revival, state this decision publicly and send word to the organizers of the Michigan Revival Conference by notifying Rick Flanders at drrickflanders@gmail.com.
2. That consideration be given for this day to correspond with other church gatherings, such as the weekly prayer meeting, so that perhaps the meeting that night may be given to prayer for revival.
3. That the plans for special prayer include fasting. Notice the connection of fasting with prayer in times of great need in Bible passages such as Exodus 34:27-35; Daniel 9:1-19, 10:1-14; Jonah 3:5-10; Matthew 6:16-18, 9:14-15, 17:19-21; Acts 13:2-4, 14:23; and Second Corinthians 6:1-10. The principle behind fasting in a time of concentrated prayer is that when we put away the physical to seek the spiritual, and neglect the visible to attend to the invisible, our faith is built up. This is why seasons of fasting and prayer bring amazing results.
4. That individual believers set aside at least one day a month for personal fasting and prayer, and organize prayer meetings with like-minded people.
5. That sound books on revival truth be read with attention in the period between now and next June.
6. That preaching on revival subjects, such as the cleansing of the heart, faith in God's promises, the ministry of the Holy Spirit, the duty of evangelism, our privileges in prayer, the preaching of the Gospel, the mission of the church, and the meaning of revival itself, be given a central place in the pulpits of good churches this year.
7. That revived believers pay attention to announcements of revival conferences and campaigns in other fundamental Baptist churches, and ask the Lord for an open door to attend them.
8. That word of how the Lord is leading and blessing His people in these times of seeking His face be made known by informing Brother Flanders.